Employee Focus: The Importance of a Quality Induction: Chris Duguid –10 Years of TSN
Details:
Written by Benjamin Atkinson
|
Published:
15/03/2019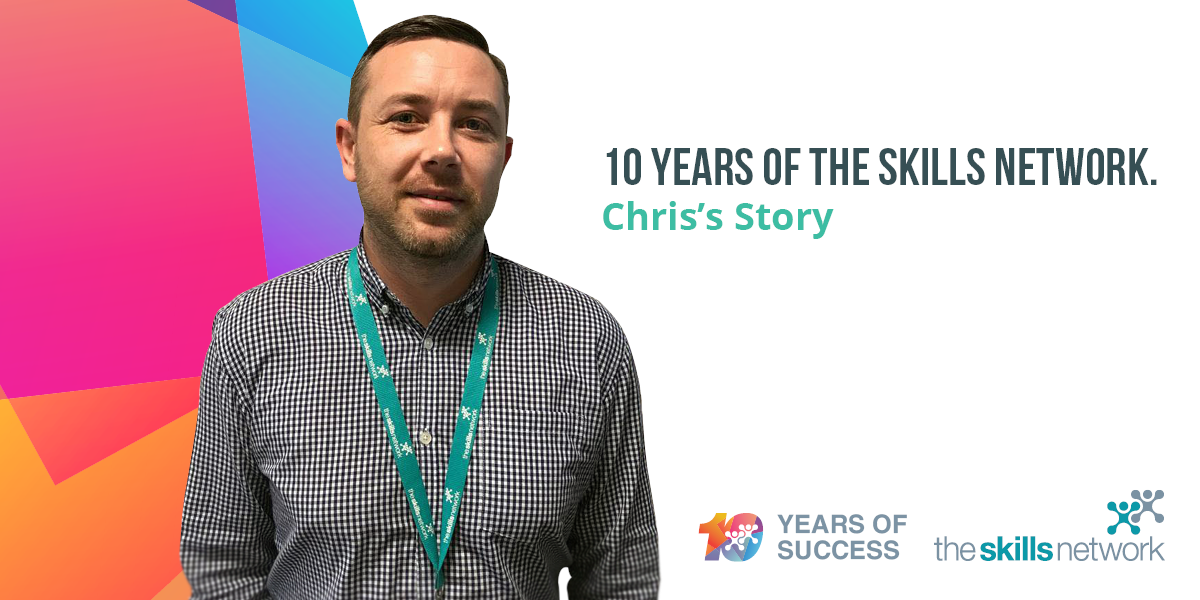 With a focus on flexibility, we are proud to offer all learners a unique distance learning experience that allows them to study at any time and in any place.
But…
We continue to provide that special touch by offering personal enrolment sessions, dedicated to groups of learners enrolling within the same organisation.
Our dedicated Enrolment Team travel the country, day in, day out, to meet new learners. They provide personal sessions to support with enrolment paperwork, answer questions, and ultimately provide guidance to help our learners to successfully embark on their new qualifications.
To support all of their hard work, we're shining the spotlight on our brilliant Induction Team. Today we are looking at Chris Duguid, one of our dedicated Induction Officers, who has been with The Skills Network (TSN) since 2011.
As part of our 10-year anniversary celebrations, let's look at Chris's story.
Chris's Story
The Early Days
"Something that sticks inside my head from the early years was the size of the office and number of staff compared to what it is today!
When I first started, we only had a handful of qualifications, including Understanding the Safe Handling of Medication in Health and Social Care, and our Equality and Diversity qualification.  At first, it was my job to visit employers to collect work from the learners so that we could hit our deadlines.  I continued within that role until I took on my current role, which is Enrolment Officer.
The company really has grown massively in the seven and half years that I've been there. This includes the number of staff that are here now compared to then.
It's crazy how the introduction of our 'EQUAL' Learner Management System (LMS) has played such a massive part in the company's growth, as it makes every job much quicker and easier – and ultimately provides a more seamless and engaging experience for the learner!
Also, the number of courses we have to offer has dramatically increased and will continue to do so – we now have a portfolio of over 110 courses!"
The Importance of an Inductor
"My role at TSN is Enrolment Officer, formally known as a Training Liaison Officer, and an Inductor to learners.
It really is important to provide a good induction for learners, and an Inductor is the only person our learners see face to face – it makes learners feel valued and shows our care for the customer, alongside all of the support they get from Tutors and Learner Support Advisors (LSAs).
We are always prepared to support the learner with all of the answers to the questions they may want to ask.  The way I see it is – if the learner is happy with their induction experience, I'd like to think that it will have an impact on their learning outcome and journey.
I would say 80% of the companies we visit are care homes – TSN has always had a strong affiliation with the health and social care sector. The other 20% mostly consists of domiciliary care, hospitals and early years settings.
For a number of years, we have also had large contracts with multi-national security firms such as G4S and Spears Worldwide Security Ltd, who we have continued to support. It's been brilliant to visit quite a number of major sporting stadiums throughout the country."
TSN
"The thing I enjoy most about working at TSN is the staff that work in our department. We have always had a good group of people, and we all get on with each other (most of the time anyway!).
TSN has helped me grow in confidence, especially with public speaking, as everybody knows public speaking isn't an easy thing to do! After seven years of doing it, it has become second nature to me now.
This month, TSN are proudly celebrating our 10-year anniversary. Join us in our celebrations and see how we have continued to grow, thanks to the amazing support of our learners, awarding organisations, employers and education partners."
Access our 10-year anniversary newsletter by clicking here