Recognising Exceptional Learner Achievement
Details:
Written by Jessica Thompson
|
Published:
11/10/2018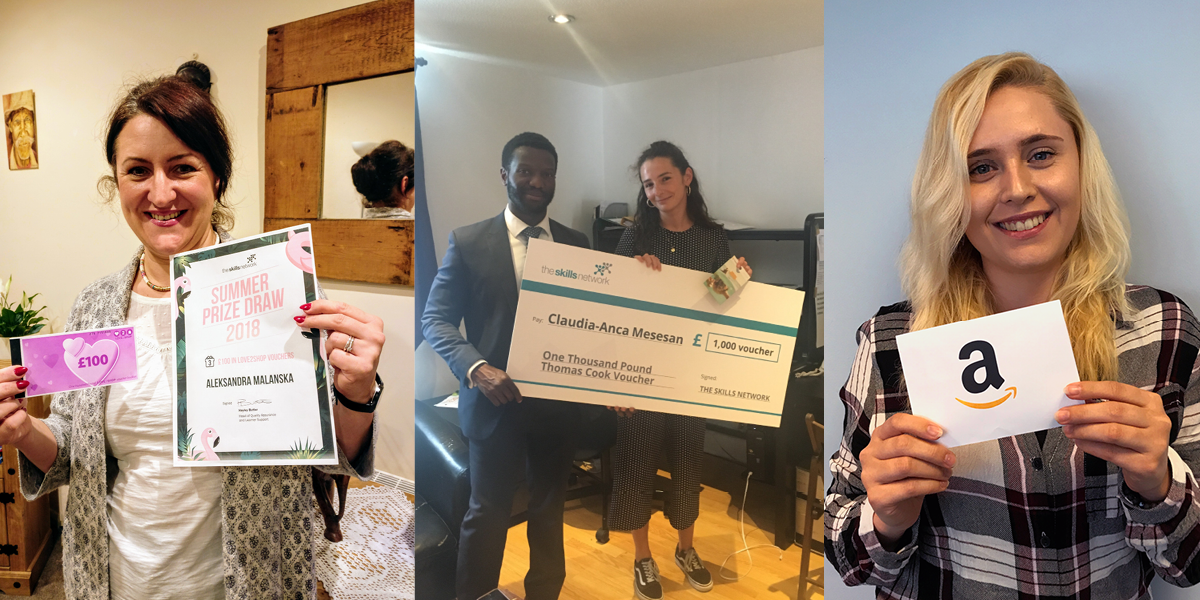 When you sign up to complete a course with The Skills Network, we are there to support you throughout the entirety of your learning journey, making it our priority to recognise and reward areas of exceptional achievement.
We take pride in celebrating those who demonstrate brilliant dedication to their new courses. With that in mind, below you will find a collection of our most recent learner success stories.
Our 2018 Summer Prize Draw Winners
Throughout the summer, we ran our annual Summer Prize Draw, recognising learners who had completed their course on time, or earlier than their planned end date.
Our 2018 Summer Prize Draw Winners were…
1st place: Claudia-Anca Mesesan was our first place prize winner, who truly excelled on her Level 2 Certificate in Mental Health Awareness course and received a £1000 Thomas Cook voucher.
Speaking about her course, Claudia said:
"The course has helped me to get a better understanding of some of the emotions people with mental health may be going through, and gave some good insight into how and where to get help.
"I would definitely recommend the course to others, as I believe it contains consistent information regarding mental health which we should all be aware of."
2nd place: Colin Gill, who completed his Level 2 Certificate in Counselling Skills course, was our prize draw runner up and received a brand new Apple iPad.
On completing his course, Colin said:
"The course did not disappoint. The course material was great, with two workbooks, which were clear, easy to follow and informative. I worked through the workbooks making notes along the way. I then tackled the questions which were not too difficult, especially as I had gone through the sections in the workbook.
"The staff at The Skills Network were extremely helpful and supportive throughout the course. The feedback given from my Tutor was exceptional: clear, concise, comprehensive, informative and fair."
3rd place: Aleksandra Malanska, who studied our Level 2 Certificate in Specific Learning Difficulties, won £100 worth of Love2Shop vouchers.
September Learner of The Month
Each month, we take the time to recognise the achievements of our learners by selecting our monthly prize draw winners.
We're delighted to announce that Vicki Lloyd was our September Learner of The Month, and won £100 worth of Amazon vouchers for her brilliant work on her course.
Additionally, each learner who completes one of our learner surveys is entered into a monthly prize draw to win £25 worth of Amazon vouchers. September's winner was Lynn Oldershaw, who is studying our Level 2 Certificate in Understanding the Safe Handling of Medication in Health and Social Care course.
Completers Prize
All of the below learners were rewarded for showing outstanding submissions and completions throughout summer 2018, and were each awarded with a £50 Amazon voucher.
Afagh Shabani
Alin Toma
Amanda Clayton
Angela Chapman
Clair Rush
Claudius Sava
Harriet Namgala
Hazel Fulcher
Janet George
Jemma Parker
Katy Peters
Kirsty Morgan
Kym Lane
Nathan Freeman
Skydi Thompson
Suzanah Pearl
Tamara Kenna
Terri Gunby
Tracey Boffey
Valerie Briggs.