Ten TSN Tips for returning to work after furlough
Details: Written by Laura Cottle |
Published: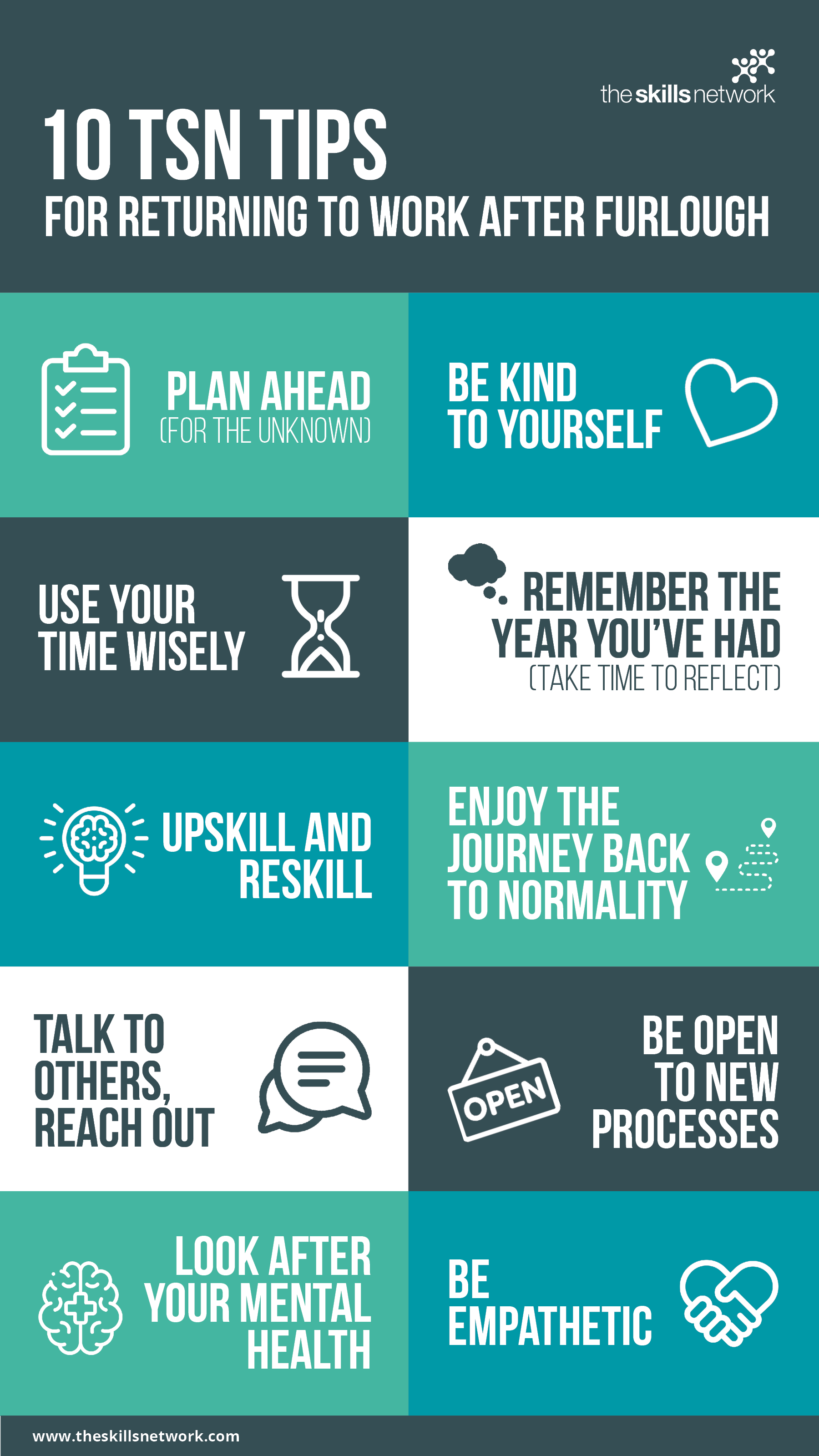 Here at TSN, we know how challenging the past year has been for many and as the Retail and Hospitality sector are finally able to open their doors, we want to give our top 10 tips for those returning to work.
The big return to work, even though a positive step, can be daunting for many and after being at home with little social contact, juggling home-schooling and watching Netflix this could be a massive readjustment.
Whether you are returning from furlough, starting a new job after redundancy or welcoming your team back to the office, we want to ensure you feel prepared to hit the ground running and be the best version of you.
1) PLAN AHEAD
It's important to take any stress away by planning and preparing for the big day.
Dust the cobwebs off your work shoes and get those uniforms ironed! Plan your commute and go over your main duties so you don't feel overwhelmed when your back in action.
2) BE KIND TO YOURSELF
This has been a big adjustment for us all, remember how you felt when lockdown 1.0 hit and give yourself a break. Pat yourself on the back and remember you've done amazing.
3) USE YOUR TIME WISELY
The countdown is officially on (Boris allowing), so use these final weeks to be productive and enjoy this time without any worries about the future. Be in the moment.
Take this time to fill those cracks in the bathroom wall, deep clean the back of the washer, do some gardening and listen to your favourite podcast (TSN Switching Lanes, obvs 😉).
Now you have a date to work towards and a light at the end of the tunnel, pop some motivational music on and focus on you.
4) REMEMBER THE YEAR YOU'VE HAD – TAKE TIME TO REFLECT
Use this time to reflect back on the highs and lows of the pandemic and what you did to make it work. Ask yourself questions, write it down in a journal, pin point how you are feeling and compare your progress last year.
What have you done to turn this negative into a positive? How have you adjusted?
5) UPSKILL AND RESKILL
Use this time to book onto a few free short courses to refresh your knowledge and skills.
After being away from work for so long, you may feel like you have lost your mojo. Instead of letting this get you down, get your brain muscles going again and take an online course with TSN.
Refresh your memory, write notes and share what you've learnt with your friends.
6) ENJOY THE JOURNEY BACK TO NORMALITY
We are beginning to see the world starting to spin again. Now it's time to get back in the drivers seat of life and focus on the exciting future ahead.
back to work will enable you to socialise, laugh, boost those serotonin levels.
Now you have a goal to work towards, start thinking of the positive things that returning to work will enable you to do, whether that's planning weekends away, have a nosey round your favourite shop, meeting a friend for coffee or enjoying the sunshine.
7) TALK TO OTHERS, REACH OUT
Even though this is a positive, others may be finding this transition daunting. Reach out to your fellow colleagues, create a group chat and get the banter going. Use this time to check up on your peers.
It's important to keep the conversation going, you never know someone might be feeling the same way.
8) BE OPEN TO THE NEW PROCESS
When returning to work, you may find that a few changes have been made. There may be new staff members or processes and policies to follow.
Take all of this in your stride and set aside time to welcome those new team members and take a look at the policies.
9) LOOK AFTER YOUR MENTAL HEALTH
We've learnt this year that self-care and mental wellbeing is super important. Recharge your batteries, get enough sleep, eat well, drink plenty, get some fresh air and practice self-care activities.
If you're feeling overwhelmed, take a moment to yourself to collect your thoughts. Don't keep your feelings bottled up, reach out to friends, family and colleagues.
10) BE EMPATHETIC
Remember that everyone in the world has had to adjust to this new normal in some way.