Shona McCallin MBE Talks Mental Health
Details: Written by Benjamin Atkinson |
Published: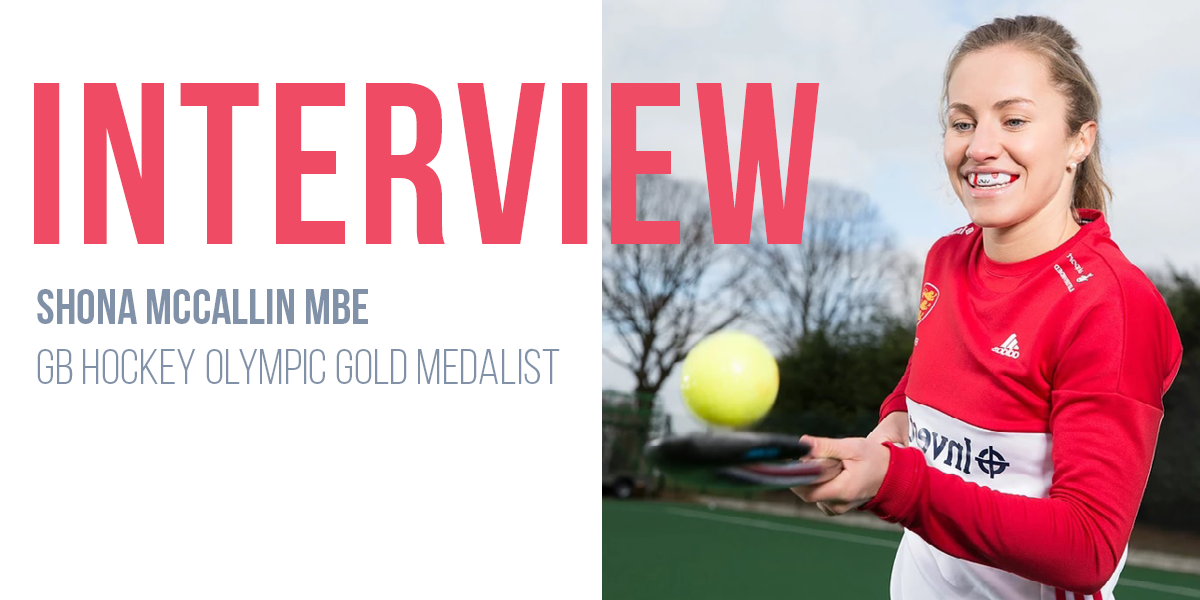 2018 has been somewhat of a growth year for Olympic hockey star, Shona McCallin MBE.
From the highs of winning an outstanding gold medal with Team GB at the 2016 Rio games against the Netherlands, to suffering a tour-ending concussion in February 2018 during a game against Argentina, Shona has already had to deal with an enormous amount of physical and mental strain – all by the age of 26.
For any athlete, the pinnacle of achievement is competing at the Olympics. This alone will place a tremendous amount of strain on the mind, but the strain and frustration of not being able to play at all, or only very little, since her concussion earlier this year has posed all sorts of new questions for Shona's mental well-being.
'Concussion is a really difficult thing to understand and treat', says McCallin.
'In terms of rehab, I have experienced three strands:
The physical rehab – e.g. starting to run, gym exercises, biking
The psychological rehab – e.g. resting the brain, practising mindfulness
The emotional rehab – e.g. keeping emotions constant, strategies to help avoid stress/anxiety.
The rehab process is therefore complex as you have to manage all of the three strands. It's all based on symptoms. For me, it has been headaches, neck pain and eye pain. .
I had to consciously keep stress and emotions low in order to help my brain before I could start any form of exercise.'
In a previous interview with Hockey Paper , Shona states that the effects of the concussion started almost instantly after her head collided with the shoulder of an Argentinean player. Feeling sick and having a headache were the early warning signs before developing fatigue, balance problems, and sensitivity to light and sound. .
During recovery, Shona controlled her exposure to social media and any emotional situations, and then, once doctors permitted, she slowly started to increase her physical activity and social interactions to build and recover her strength, in both body and mind. .
'My injury has further highlighted the importance of the brain, and the need to look after it and train it. Whether that is making sure you are talking to people to help with emotions, practising mindfulness, or having strategies in place to help with confidence or relaxation.'
A few months ago, after conducting some research about Mental Health qualifications, Shona decided to undertake a TQUK Level 1 Award in Mental Health Awareness (RQF) with The Skills Network, endorsed by our awarding body partner Training Qualifications UK.
'I've always been pro-active and interested in the part mental health plays in life and in sport. I really do believe that at the level of sport I play, you need to be strong mentally.
'The difference between a good player, a great player and a world-class player has a lot to do with the mind. Can they handle pressure? Can they make the right decisions whilst constantly under pressure? Can they maintain confidence throughout setbacks? Can they perform under stress and fatigue?'
'It was an interesting qualification which provided a wide range of information on mental health. Some things I was aware of; some I wasn't. It was easy to fit it into my spare time alongside training and I could complete it at my own pace.'
Our TQUK Level 1 Award in Mental Health Awareness (RQF) is designed to help develop your knowledge and understanding of mental health issues. It develops and recognises any personal knowledge and skills to help encourage a healthy lifestyle, and prepares you for further training.
The qualification can help you to acquire skills in supporting family members who may have suffered, or may be suffering, a mental illness by ensuring you understand the signs and symptoms to look out for and how best to help people.
It can also help you to understand your own mental health and well-being; identify possible causes and triggers and how to avoid them; and know when and where to look for help and support. .
After completing her first qualification in mental health, Shona is eager to follow this up by now studying for her TQUK Level 2 Certificate in Mental Health Awareness(RQF) with us, with GB Hockey team psychologists encouraging players to understand training of the brain as much as the body.
'I think if you look at how far society has come in the last 10 years, in terms of talking about mental health, we as a society are going in the right direction.'
'10 years ago, people were ashamed to speak to psychologists and it was often seen as a weakness in sport. Nowadays, especially in the GB Hockey squads, mental health is talked about and discussed much more openly.'
'I think this has helped us realise the impact the brain has on performance and its need to be trained.'
The prevalence of poor mental health in sport has been well documented over the years, from the rigors of playing at a high, professional level, to having the courage to take part in sports at school.
Furthermore, as experienced by Shona, the strain placed on the mind when an injury occurs can be significant, leading to a long road to recovery or even the end of a career. Understanding the mind and having the correct avenues of support available in the aftermath of an injury is crucial.
'I think society has highlighted that suffering with mental health is something you shouldn't hide or be ashamed of'.
'Various sports professionals, celebrities and members of the Royal Family have come out in the last five years and highlighted how important it is to talk about and look after your mental health.'
For more information on our Level 1 Award in Mental Health Awareness (RQF), Level 2 Award in Mental Health Awareness (RQF), or Level 3 Certificate in Understanding Mental Health (RQF) please visit either of the following links below:
TQUK Level 1 Award in Mental Health Awareness (RQF) – Available at no cost, through government funding
TQUK Level 2 Certificate in Mental Health Awareness(RQF) – Available at no cost, through government funding