Six things you need to know about Advanced Learner Loans
Details: Written by Laura Cottle |
Published: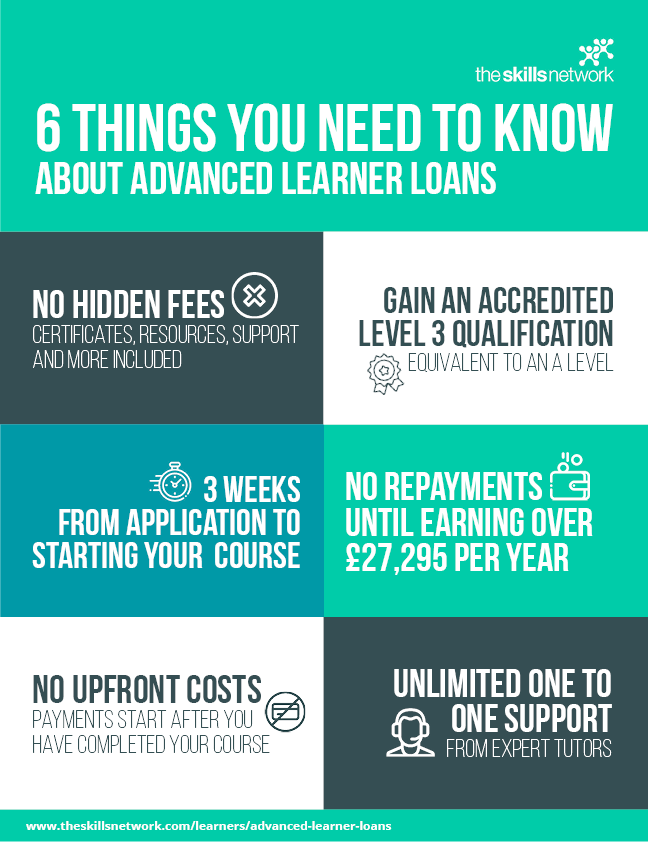 One of our most frequently asked questions is what actually is an advanced learner loan? What could this mean for me? Look no further… we are here to set the record straight.
When you hear loans, you may be filled with dread thinking of busy call centres and debt collectors chasing money. This is not the case when applying for an Advanced Learner Loan.
We understand that it can be unnerving when choosing the right course and payment options for you. That's where we can help…lets dive into the six things you need to know before applying for a loan.
1) No hidden fees
Putting our learners first is our main priority and we appreciate the importance of clarity and honesty when finances are brought into the mix. Our main goal is to support accessible learning at any age, under any circumstances and we want to ensure that you feel content knowing that you can focus on excelling rather than when an amount is due. That's why all learning resources, advice and support plus e-certificates are included in the cost of your course.
2) Gain an accredited Level 3 qualification
Yes, you read right! You now have the opportunity to gain a fully accredited level 3 qualification which is equivalent to an A Level. Say goodbye to travelling late to evening classes and hello to online learning, from comfort of your own home and around your lifestyle.
Our Advanced Learner Loans are available for the following level 3, fully accredited courses:
• Level 3 Certificate in Understanding Mental Health
• Level 3 Certificate in the Principles of End of Life Care
• Level 3 Certificate in Understanding Autism
• Level 3 Certificate in Principles of Customer Service
• Level 3 Certificate in Principles of Dementia Care
• Level 3 Certificate in Principles of Leadership and Management
• Level 3 Diploma for the Children's Workforce (Early Years Educator)
• Level 3 Level 3 Supporting Teaching And Learning In Schools
3) Three weeks from application to starting your course
We know how fast paced life can be and with our super quick enrolment process, you can start learning in no time. Upon enrolment, a welcome call with your dedicated Learner Support Advisor will be scheduled ready to induct you to onto the course and to answer any questions you may have – no matter how small.
4) No repayments until earning over £27,295 per year
You don't have to think about the cost of your course until you are earning over £27,295 per year. As you progress in your career with the skills gained with us, there will be small, manageable repayments that you wouldn't even have to think about. How easy is that?
5) No upfront cost
If you are already over the £27,295 threshold, payments will start after you have completed the course. All that's required to start your learning journey with us is an application. No upfront cost to budget for and absolutely no putting it on the credit card and worrying about it later. Phew!
6) Unlimited one to one support
Our excellent team of expert tutors and Learner Support Advisors are ready to answer any queries, give feedback on submissions and support you every step of the way. Whether you need assistance with managing deadlines, have course content queries or want to chat about your future learning opportunities after completion, we are here to help!