Menopause Awareness Training with The Skills Network
Details: Written by Kate Hutchinson |
Published:

Despite over 90% of menopausal women in the UK experiencing menopause symptoms such as hot flushes, night sweats and low mood, 9 in 10 post-menopausal women were never educated about menopause in school. Often shrouded in mystery and misconceptions, menopause is a natural phase in a woman's life that deserves both awareness and understanding. To navigate and support those who experience this significant life transition, it's crucial to equip ourselves with the knowledge and tools. This blog will put a spotlight on The Skills Network's Menopause Awareness CPD certificate as well as provide a comprehensive resource designed to educate and empower our readers. Discover how our menopause awareness training course demystifies the topic and can provide individuals or employees with the knowledge needed to advocate for and support those who have a menstrual cycle.
World Menopause Day takes place in October each year and is a fantastic opportunity for everybody (not just women) to learn more about this very natural and significant transition.
Here at The Skills Network, we proudly offer an accredited CPD certificate in Menopause Awareness as part of a wider range of 'social series' CPD courses that aim to explore and educate on current societal matters that shape our behaviours in everyday life.
See all social series CPD courses
Some may consider menopause a hot topic (deliberate word choice) with Davina McCall's menopause book 'Menopausing' hitting the shelves in 2022. Not to mention the increasing number of magazine publications such as Menopause Matters and Menopause and You, that now exclusively focus on the topic.
In fact, as I write this very article, the topic of menopause has hit the BBC headlines once more this week.
Office Manager, Karen Farquharson (49) has won a £37,000 payout after her boss told her that she used her menopausal symptoms "as an excuse for everything" and should "just get on with it".
Ms Farquharson was suffering from a range of menopausal symptoms; as well as bleeding, she was suffering from anxiety, a loss of concentration and brain fog.
Having explained her absence from work, Ms Farquharson was met with disdain and disgust from Mr Clark, who proceeded to discount her symptoms saying that "everybody has aches and pains". Upon submitting a grievance letter to the company, several days later, she discovered the company had cut off her remote access, rendering it impossible for her to work from home. Ms Farquharson resigned and took Thistle Marine, an engineering firm based in Peterhead, to an employment tribunal.
At the tribunal, the panel, judged by Judge James Hendry, described Mr Clark as "a blunt, self-made man and successful businessman", who "no doubt has many admirable qualities but empathy for others is not among them."
"It became clear to us that he has little time or respect for those, unlike himself, who are not able to work as hard or without illness as he has."
His remarks to Ms Farquharson violated her dignity, the panel concluded and re-inforces the critical need for more awareness training in companies across the UK.
Ms. Farquharson has since resigned from Thistle Marine having worked there for 28 years.
Read more about Ms. Farquharson's story
Whilst the outcome of Ms Farquharson's tribunal is a significant step in the right direction, it doesn't negate that 9 in 10 post-menopausal women were never educated about menopause at school, let alone their male peers. Perhaps this is why cases such as Ms Farquharson's are sadly, not uncommon across the UK.
So, for the sake of those who haven't read the news, picked up a best-selling book or magazine and are perhaps less familiar with the topic of menopause, let's cover 5 frequently asked questions.
Question 1) What is Menopause?
Menopause is when a menstruating person's periods stop due to lower hormone levels.
Menopause can happen naturally, or for reasons such as surgery to remove the ovaries (oophorectomy) or the uterus (hysterectomy), cancer treatments like chemotherapy, or a genetic reason. Sometimes the reason is unknown.
Source: NHS

Question 2) What are the Signs and Symptoms of Menopause?
It can feel and present differently for everyone.
Some may experience a number of symptoms or none at all.
Symptoms usually start months or years before your periods stop. This is called the perimenopause.
Symptoms include:
Changes to period - this may include an irregularity in frequency or they may stop altogether
Changes to mood - some may experience low mood, anxiety, mood swings and low self-esteem
Problems with memory or concentration - commonly referred to as brain fog
Hot flushes - hot flushes, when you have sudden feelings of hot or cold in your face, neck and chest which can make you dizzy
Difficulty Sleeping - sometimes a result of night sweats
Heart Palpitations - when your heartbeats suddenly become more noticeable
Headaches and migraines - these can feel worse than usual
Skin changes - this can include dry and itchy skin
Osteoporosis - a health condition that weakens bones, making them fragile and more likely to break



Also:

Reduced sex drive
Vaginal dryness and pain, itching or discomfort during sex
Recurrent urinary tract infections (UTIs)
Muscle aches and joint pains
Changed body shape and weight gain
Discover more about Menopause Awareness

Question 3) When does Menopause Start and how long does it last?

Menopause usually affects women between the ages of 45 and 55, but it can happen earlier.
The current average age for women who start the menopause is 51.
Source: NHS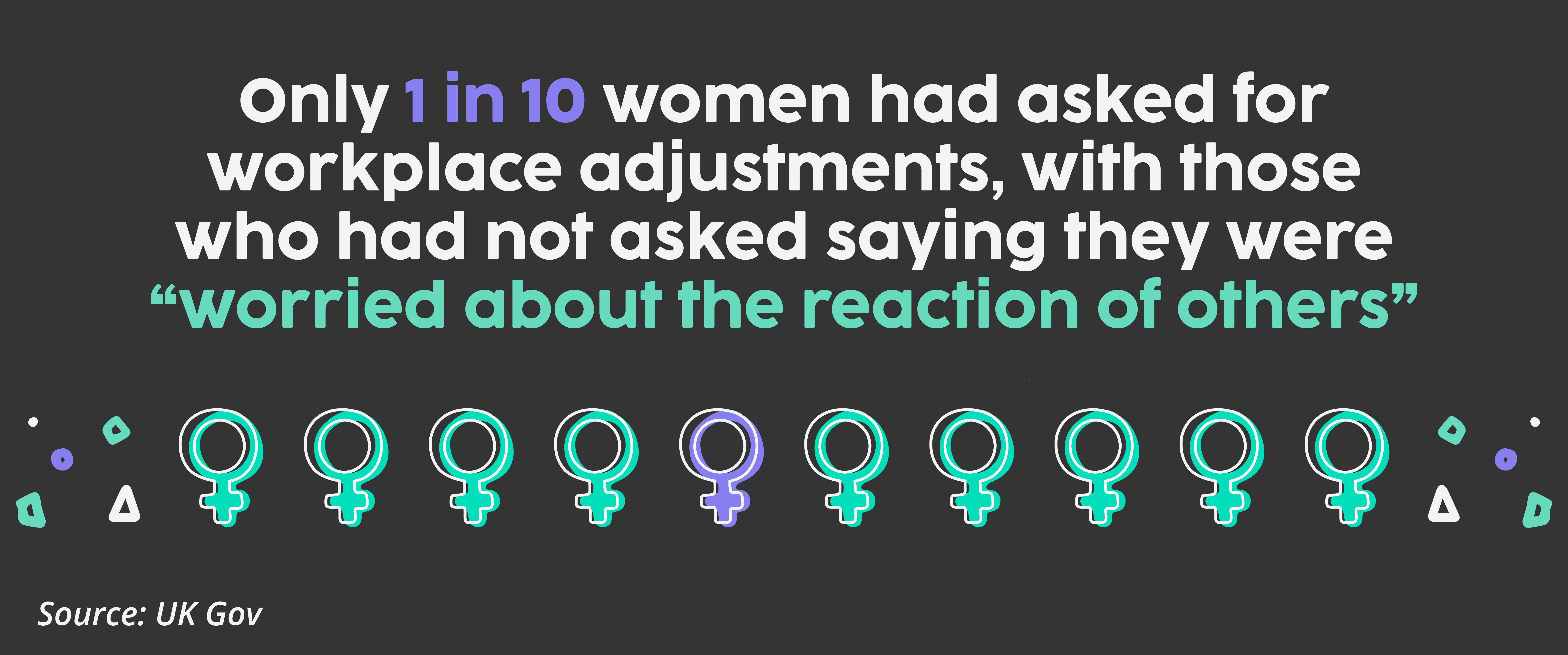 Question 4) Is Menopause a Disability or considered a Protected Characteristic?
In some instances, menopause may fall within the category of discrimination law as a potential disability or protected characteristic.
When an individual is classified as having a disability, their employer is obligated to implement reasonable accommodations aimed at mitigating or eliminating any challenges they might face due to this condition.
A recent government inquiry revealed only 1 in 10 women had asked for workplace adjustments- with those who had not asked saying there were 'worried about the reaction of others' or that they were not sure who they could speak to about their struggles.
It is advisable for employers to place their primary focus on providing support to the individual rather than attempting to determine whether the person's condition legally qualifies as a disability.
If an individual who is acutely struggling with menopause-related issues encounters disadvantages or experiences poor treatment due to their disability, this situation may constitute 'discrimination arising from disability.
Source: Acas

Question 5) Can you be Signed Off Work with Menopause?
Yes. As with any illness or condition that impacts an individual's ability to work, they can be signed off work with a doctor's note to prioritise the wellbeing of the individual and help manage their symptoms.
It is common for some menopausal women to experience symptoms that may interrupt their ability to work such as:
Anxiety
Depression
Joint pain
Sleep disturbances
When consulting with a GP, it is best to provide a comprehensive description of these symptoms. If your GP verifies that these symptoms are linked to menopause, you may request that this connection be noted on your doctor's note (fit note).
Employers should make a reasonable effort to support you under The Equality Act 2010.
Some potential "reasonable adjustments" that your employer might consider include:
Keeping a separate record for absences related to menopause
Allowing you to have flexible work arrangements, such as starting at a later time or working from home
Providing you with extended time to enhance your job performance or attendance
Learn more about Menopause in the workplace
Disclaimer: The above content has been solely researched for the purpose of this blog and is not to be used for anything outside of general reading and research.
Always consult your own GP or employer for advice.
Menopause Training with The Skills Network
The Skills Network is proud to offer an accredited CPD certificate in Menopause Awareness for just £30.
Begin your professional development today
As with all our courses at The Skills Network, this menopause training CPD is delivered fully online, meaning you can learn at a time, place and pace that suits you. All learning content is accessed via our award-winning e-Learning platform called EQUAL, meaning all you need is a desktop computer, laptop, tablet or even a mobile phone.
Getting your qualification for this course couldn't be simpler.
Visit our website
Add to your basket
Start learning straight away

The course is aimed at anybody who wants to expand their knowledge of menopause and will provide a general understanding and in-depth knowledge of the subject.
Learners will explore the stages of menopause and delve into why it's important to raise awareness. Understand reasonable adjustments employers can make, and how we can support friends and family going through it.
Here is a closer look at the course content:
Section 1: The facts – Understand what menopause is: In this section, learners will be introduced to the different stages of menopause, as well as the physical, psychological and emotional symptoms. Learners will also explore the impact menopause can have on an individual and some of the myths and perceptions surrounding menopause.
Section 2: The why – Understand why awareness is important: In Section 2, learners will explore why awareness of menopause is important, as well as the menopause within the LGBTQ+ community and in the workplace, and how menopause is portrayed in the media.
Section 3: Skillscast (video content only)- This section is video content only and explores the lived experiences and recommendations of women across the UK and their personal approach to navigating menopause.
Section 4: The how – Understand how to support people going through menopause: In the final section, learners will cover how to support people going through menopause, and outline the supportive services and resources available.
Those who complete the 2-hour CPD course will receive a digital e-certificate from an accredited awarding body.
Here are some snapshots of what you can expect:



So far, we've helped bring understanding and key learnings about menopause to our enrolled learners, who are currently at an average age of 43 years old.
The Skills Network look forward to seeing our learner demographics diversify in the near future, given the universal benefits of enrolling on this course, regardless of age or gender.

Menopause Training for Managers
With women making up almost 70% of the local government workforce and almost three-quarters of that workforce being aged between 40 and 64 years old, it means that at any time, a significant proportion of our workforce will experience symptoms of menopause.

It is crucial that managers and those in senior leadership positions feel well-equipped to support and understand the needs of their team members- including those who may experience challenges associated with menopause.

Our Menopause Awareness CPD takes just 2 hours to complete, meaning your staff and the wider team will benefit from this course almost immediately.
Some organisations may choose to assign a dedicated 'Menopause Champion' at work after completing this short bitesize course. The role of a Menopause Champion in a workplace setting can help proactively support and raise awareness of menopause.
Menopause Champions are capable of offering appropriate support to those who may require it, whether they are currently experiencing menopause, approaching this life stage, or simply concerned about someone they know who is going through it.
Enquire about menopause staff training today
It is hoped that by reading this short blog, you will have learnt something new about menopause and understood the incredible benefits our Menopause Awareness CPD award can bring to you as an individual or employee.
In closing, it's evident that menopause, a natural and transformative phase in a woman's life, has been neglected as a taboo subject for far too long.
Tackling the silence and stigma surrounding menopause is essential.
It's a shared experience that affects countless women, and open conversations and education within our home life and workplace can foster understanding, support, and empowerment.