Employee Focus: Chloe Raper – Celebrating 10 Years of The Skills Network
Details: Written by Benjamin Atkinson |
Published: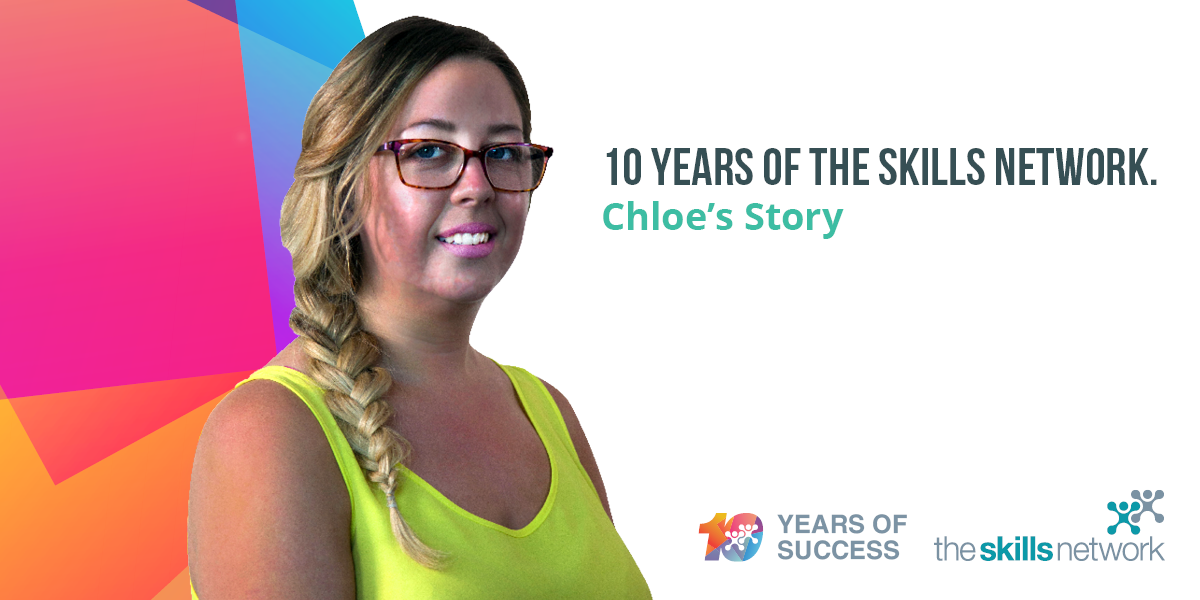 Throughout March, we are shining the spotlight on our amazing and dedicated staff, as The Skills Network (TSN) proudly celebrates its 10-year anniversary.
Today, we look at the story of Chloe Raper, our highly valued Tutor Services Coordinator, who has been with us from the very early days of November 2010. She now has over eight years long service, and remarkably – has never had a sick day during her time at TSN.
You are a true testament to TSN Chloe, and we thank you for all your continued hard work.
Chloe's Story
First Joining TSN
"My TSN journey began in November 2010. I joined as a temp, and on 'Day 1', I was greeted with three full desks of paper assessments that needed scanning! I was really thrown into the deep end, tackling a whole range of tasks; scanning, filing, answering the telephone, prepping paperwork, franking post and taking it to the post office – even wrapping Christmas gifts for our colleges and employer partners.
You really won't be surprised to know that there have been a lot of changes in the last nine years!
In the early days, TSN shared an office complex and had one floor comprising of a main office of about 20 staff, a second smaller office and a filing room.
Compared to the quality of our learner journey today – our approach to tracking learner progress was miles apart from what it is today.
All of our learner data was stored in Excel spreadsheets. A separate spreadsheet per college, and everything that our 'EQUAL' Learner Management System stores for a learner now (minus a contact record) was located on that spreadsheet. Every piece of information was submitted and updated manually!
Could you imagine that now, given how seamless 'EQUAL' is today?
Paper assessments weren't perforated, so we had to cut these manually, scan them in and staple them back together. The scanner then was very slow!
STORM was the first attempt at a learner database, and compared to spreadsheets it was amazing. It shows how far we've come to see that we now have 'EQUAL' that so many partners have purchased from us, it is a great system."
Working at TSN Over the Years
"For me TSN is a nice place to work – the friends I have made along the way is something that sticks out to me. This was my first job after finishing college, so I have pretty much grown up here and have learnt a lot along the way. It's quite surprising when I think back to how different things were, obviously the changes have been for the better, but it shows how successful the company is. The fact that I am still here after all this time must say something about how successful TSN is in investing in its own people!"
My Role
"After tackling what felt like every job in the organisation at the very start, I spent the first five years within our Learner Services Team as a dedicated Learner Support Advisor.
In 2016, I joined Tutor Services to support our growing bank of qualified Tutors who deliver professional academic support to our learners.
With an ever-increasing number of annual learners, it really is important that our Tutors receive a high level of support so we can continue to deliver a unique learning experience to our students."