World Book Day 2023
Details: Written by Kate Hutchinson |
Published:

Recently published UK government plans proposed that by 2030, 90% of children leaving primary school in England should reach the expected standards in reading and writing, compared with 65% in 2019. (1)
But how do we put reading back on the national agenda?
Perhaps you're an avid bookworm, a steady away page-turner or a noncommital newspaper reader. Whatever way you like to read, everybody in the world can be a reader. You're reading this blog right now after all!
This World Book Day, The Skills Network is exploring the transformative power of reading from a young age, and how technological advancements and gendered assumptions have impacted our literacy skills and reading habits.
When is World Book Day 2023?
World Book Day is celebrated on Thursday 2nd March 2023.
The mission of World Book Day is to offer every child and young person the opportunity to experience the pleasure of reading and have a book of their own. The charity believes that reading for pleasure is the biggest indicator of a child's future success- more than their family circumstances, their parent's educational background or income. (3)
In recent years, it has become very popular for school-age children to dress up in costume as their favourite storybook character to celebrate the day. Popular World Book Day costumes include Beatrix Potter's Peter Rabbit, Roald Dahl's Violet Beauregarde and David Walliams' Gangsta Granny. Retailers such as ASDA, Argos and Sainsbury's have all set up their very own 'character shops' where parents can get inspiration, and ideas or buy a costume.

Does reading books improve a child's literacy skills?
The short answer is yes!
Just 10 minutes a day reading a book and sharing stories with children can make a crucial difference during their formative years and help with future skills development. The more a child reads, the more vocabulary they will recognise and this will help with a child's academic performance. Studies have proven that reading to a child can help improve their discipline, focus, imagination and creativity- all of which are crucial for developing literacy skills.
Reading from an early age also supports a child's cognitive development associated with language skills. A recent brain study found that "reading at home with children from an early age was strongly correlated with brain activation in areas connected with visual imagery and understanding the meaning of language". (4)
Cognitive and critical thinking skills are especially important when you consider that 1 in 5 adults are currently classed as having low literacy skills in the UK. (5) Should we continue to follow this national trajectory, the UK is anticipated to fall 4 places in the global literacy table by 2030.

Paul Wakeling, Executive Director of Curriculum and Quality at The Skills Network says:
"16% of UK adults are considered "functionally illiterate", unable to read or write these individuals are fundamentally limited in almost all elements of their lives. Encouraging a child's reading habits and consequently improving their literacy skills has never felt so important and can even influence their future earning potential! Statistics suggest that reading just 20 minutes a day can increase a child's lifetime earnings by £280,000, and yet only 18% of parents are regularly reading to their children. (6)
How has technology affected children's reading and writing skills?
We live in a fast-paced and predominantly digital age, whereby technology has directly influenced our reading and writing skills and behaviours.

One notable example of how technology has impacted reading and writing skills is the use of auto-correct tools such as spellchecker.
Pippa Morgan, Head of Education and Skills at the Confederation of British Industry says:
"It would be a mistake to tell young people that spelling doesn't matter in this industry, or in this occupation because those basic skills are a real gateway to other roles or to developing other skills. Spelling skills are required more than ever. If you're dealing with customer service enquiries via Twitter, that might be the one interaction customers have with that company and so the quality of that message, the use of language, is really, really important. It might be just as important as a friendly face in a store or voice over a phone."
Morgan's concerns are bolstered by studies which have revealed that digital tools such as spellcheck are impacting children's ability to write correctly.
Results revealed that 68% of 2,462 survey participants said that digital tools make students more likely—as opposed to less likely to take shortcuts and not put effort into their writing. Furthermore, 46% of survey respondents said that autocorrect tools such as spellcheck make students more likely to 'write too fast and be careless". (7)
Another example of how technology has shaped reading and writing behaviours is our increased average screen time.
Average screen time has increased by 50 minutes since 2013 alone, with the current average standing at 6 hours and 58 minutes in 2023. (8) The reality is, life is hectic and reading to children can feel like a chore. The gradual introduction of devices such as tablets and mobile phones can conveniently sometimes replace reading time with screen time.
Nielsen has discovered that time spent on a screen at a young age is rapidly increasing. In 2014, 11% of 0-2-year-olds spent an average of 1-3 hours a day on a tablet or mobile device, by 2019, this figure had rapidly risen to 42%. (9) National Literacy Trust are concerned about the impact increased screen time will have on children's ability to read for pleasure. When screen time is used appropriately by a parent, technology can provide an important route to reading. The challenge is engaging parents with this because data shows that 0–2 year old's typically use a tablet 'most often' to visit YouTube (26%).
Technology in some instances stands to jeopardise the value of reading books for all. By celebrating awareness days such as World Book Day, we can encourage parents and children alike to be present in their reading practices and share the proven benefits of picking up a book together, rather than a screen.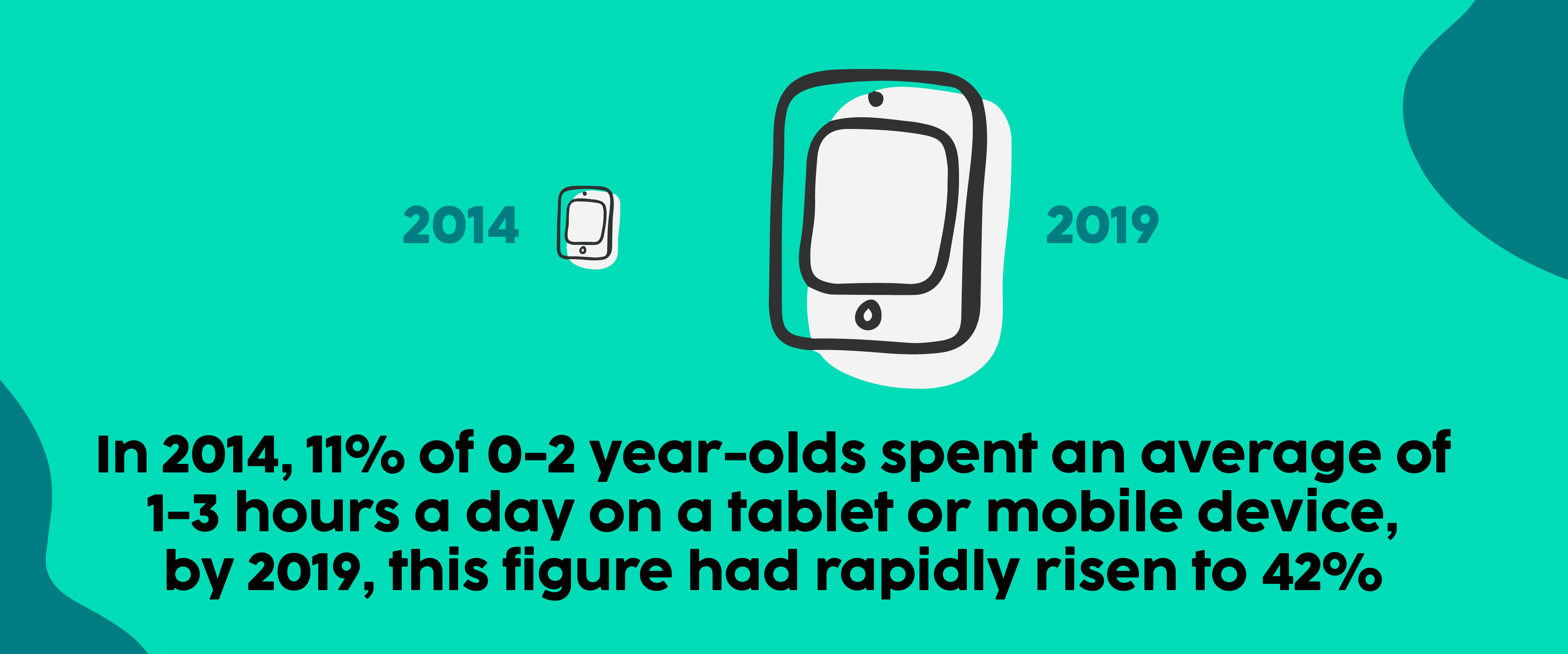 Can gender impact reading and writing skills?
Ever heard the phrase "Maths is for boys, English is for girls?"
Gendered assumptions like this have dominated and influenced the narrative of reading and writing skills throughout British history.
In the 19th century, writing as a profession was generally considered unsuitable for women. Many famous female authors such as Emily Bronte (in fact- all the Brontes) consequently used male pseudonyms as their pen names in order to get their novels published. It was argued that "literature cannot be the business of a woman's life" according to poet laureate Robert Southey.
Gendered control of female reading and writing habits continued throughout British history and has had deep-set and long-lasting effects. By 1870, reading and writing had become favoured alternatives to mathematics, which was considered an unsuitable subject for girls to study. British philosopher and sociologist Herbert Spencer believed, "if a woman undertook rigorous 'brain work' such as mathematics, energy could be diverted from her reproductive system, threatening fertility and general well-being." Yikes.
Fast forward to today, it is evident that gender can still be associated with differential literacy engagement among children. According to Literacy Trust, in 2022, fewer boys than girls said they enjoyed reading (45.6% vs. 54.9%). Boys had the lowest levels of reading enjoyment, with just 2 in 5 agreeing that they enjoyed reading.
Whilst we can't ever say for certain whether Maths is truly for boys and English is for girls, there is no doubt that our historical attitudes towards who should and shouldn't be reading and writing have shaped years of educational legislation and cultural opinion.
So, how can you get involved on Thursday 2nd March 2023?
5 ways to celebrate World Book Day:
Host a book swap-great for the environment too!
Dress up as your favourite storybook character-*searches Gruffalo costumes*
Host a book-themed movie night-there's plenty to choose from!
Seems an obvious one…READ a book-let's get that average screentime down!
Pick up a £1 World Book Day book -check out the selection here

Here at The Skills Network, we are committed to tackling the UK literacy skills crisis head-on with our range of functional skills programmes and learning resources available to businesses and education providers.
Everyone can be reader, so get reading this World Book Day!
To find out more about our Functional Skills progammes,visit our website
(1) BBC
(2) World Book Day
(3) About us
(4) Time.com
(6) Fenews.co.uk
(7) diggitmagazine
(8) Explodingtopics
(9) Literacy Trust
(10) Stylist.co.uk
(11) Mac Tutor
(12) Literacy Trust