Ten TSN tips for life after learning
Details: Written by Laura Cottle |
Published: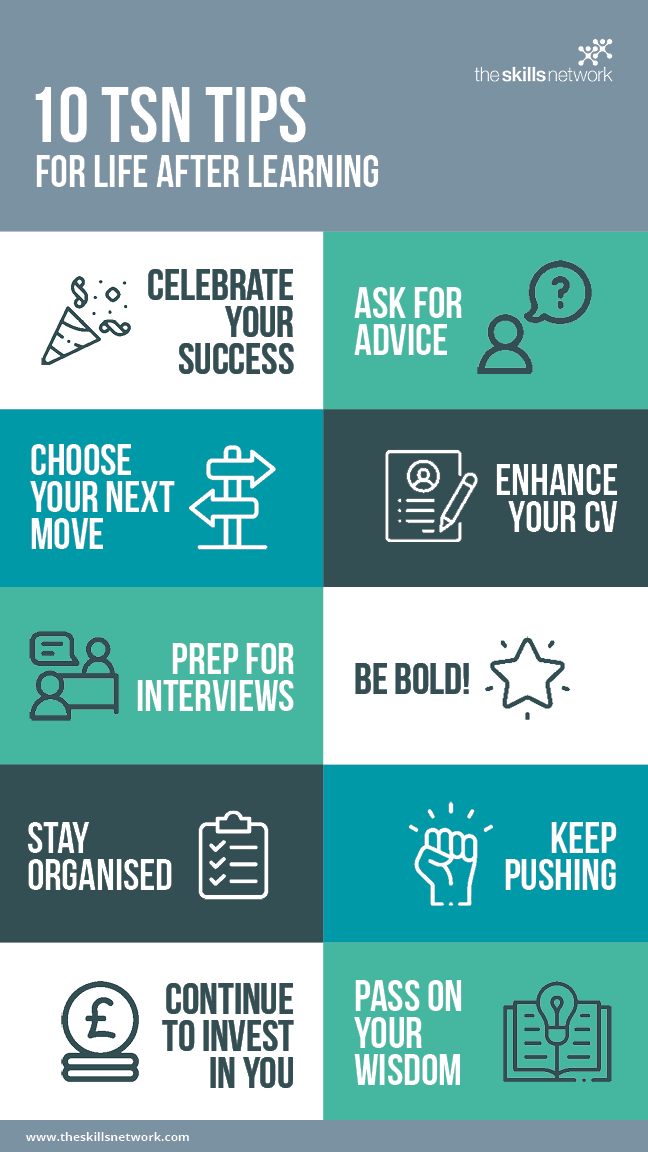 So, you've completed your qualification – Congratulations! Now what?
If you're feeling slightly puzzled about what to do next, you're not alone, so we have devised ten TSN tips for life after learning to help point you in the direction of your next steps.
1) Celebrate your success
Celebrate your achievement with family, friends and peers. It's easy to forget the hard work and effort you have invested into something when it's over. Take this time to reflect on your achievement and reward your hard work. Last year, this course could have been just a thought or an idea – look how far you have come!
2) Ask for advice
Use this time whilst everything is fresh to reach out for advice. Channel your thoughts on how you want to use your newly gained skills and knowledge. Reach out to your Learner Support Advisor, Career progression coach or family and friends about your options going forward. Book a place on webinars, workshops and motivational talks or follow people who inspire you on social media or listen to a podcast (switching lanes is our fave and you can listen now on Spotify!)
3) Choose your next move
It's now time to gather your thoughts, weigh up your options and get stuck in! Whether you want to excel in your career, personally or start something fresh, we recommend visualising your future by jotting down your goals and writing a to do list.
4) Enhance your CV
Now's the time to take all those newly gained skills and knowledge to the next level. Start by updating your CV, adding your most recent qualifications and experience. Write a brief overview about what you learnt through your studies and how it will enhance your performance in your preferred role. You could even add a 'Skills List' to your CV and bullet point the key skills you have learnt. All that's left now is to reach out for those opportunities and put yourself out there!
5) Prep for interview
Preparation is key and we don't just mean ironing your workwear. There's deciding how to market yourself, rehearsing your response to interview questions, running through your previous work experience and identifying your transferrable skills. There may be practical based, problem solving questions – think about your working style, research the ethos and values of the organisation beforehand so you have a clear understanding of what is important to them when hiring the right candidate.
6) Be bold
This is your moment to step out of your comfort zone, seek new opportunities and put yourself out there. Be bold and push yourself! What have you got to lose?
7) Stay organised
Staying organised is key when working towards a goal – stay focused and don't let procrastination set you off track.
8) Keep pushing
Just because you've finished your course, don't feel like you've reached your peak – this is just the start and we're always here to help and guide you through your next steps or your next course. Success doesn't come without hard work and perseverance so stay determined and keep the momentum going.
9) Continue to invest in you
Daily life can distract you from your long term goals and investing in yourself. If the last year has taught us anything, it's that the little things matter so take time to look after you. Keep upskilling, retaining and rewarding yourself.
10) Pass on your wisdom
Share your experience with colleagues, peers and friends to reinstate that knowledge - you never know, you might inspire somebody else to take on something new.