Free Online Courses: A Trick or a Treat? (2023)
Details: Written by Kate Hutchinson |
Published:

It's spooky season here at The Skills Network! Creaky floorboards, unexplained noises, and a sudden chill is in the air. For many, Halloween is considered a season full of ghoulish behaviour, witchcraft and wizardry and of course trick or treating. But one thing is for certain, there is no hocus pocus when it comes to The Skills Network's FREE online courses in England and Scotland. From government-funded Skills BOOoootcamps to accredited Level 2 courses, you'll be spoilt for choice when it comes to upskilling online. So hold on to your broomsticks! This blog will show you a whole range of funded online learning opportunities that individuals or employees can enroll onto today without a scare in the world.
Free Adult Learning in England
The Adult Education Budget (AEB) is a government-funded scheme in England which aims to engage people aged 19 or over in learning and provide them with skills and knowledge to help them progress in their careers.
This funding, worth up to £800 per person, per course, can be accessed through independent training providers, local authorities or colleges, and allows both individuals and businesses to upskill at no cost to them.
We have over 45 fully funded accredited courses available for individuals looking to upskill in England. So far, we have helped over 35,000 learners get a nationally recognised qualification (and counting!)
Learners can complete up to 4 free courses per academic year.
Check out our free courses in England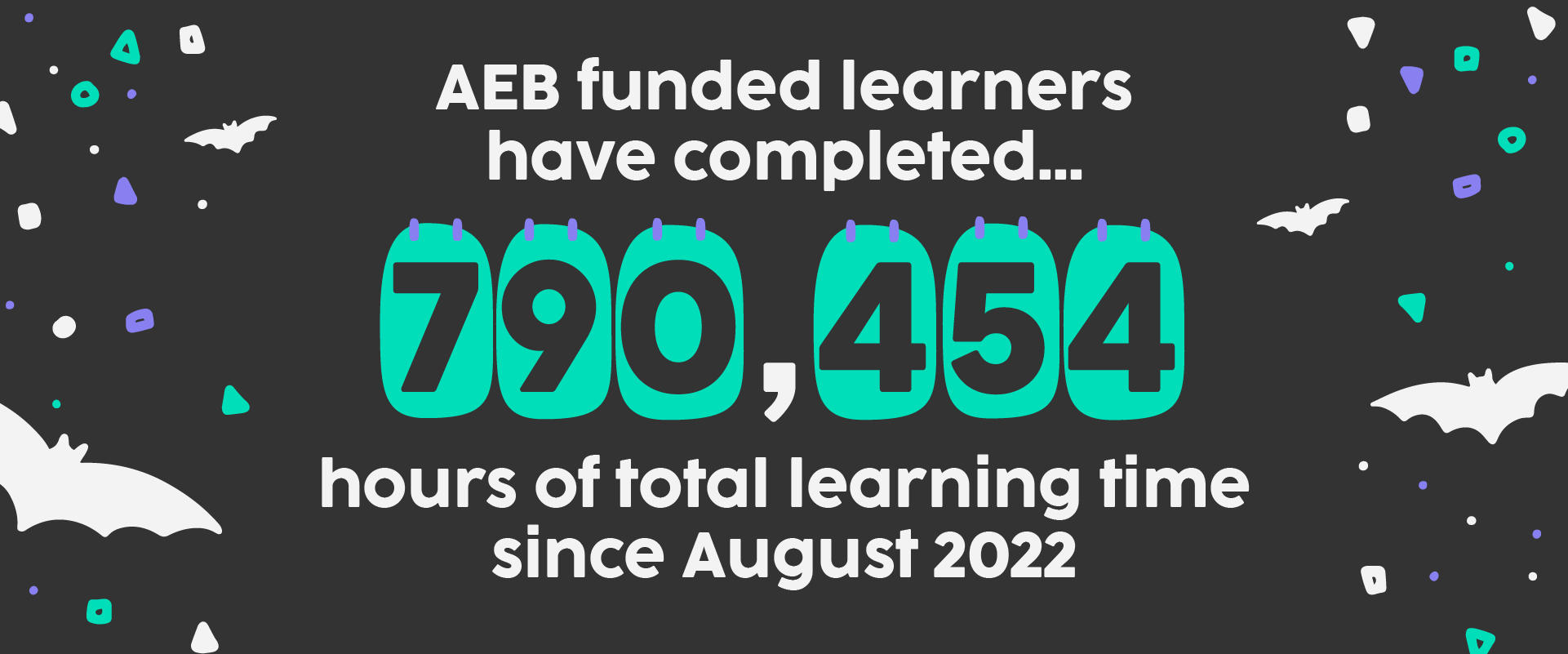 AEB Funded Learning Eligibility Criteria
To be eligible for the AEB funding, you must meet the following criteria:
Must be aged 19 or over
Must currently live in England
Must have lived in the UK, EU or EEA for the last 3 years
Must not have previously studied the course you are applying for or another course where the content is similar
Must not currently be enrolled on another government-funded education programme, either with The Skills Network or any other provider
(If aged between 19 and 23, you must already have a level 2 or equivalent qualification)
More information about qualification levels
Read more about AEB-funded courses
Free Online Staff Skills Training
For employers, the AEB is a great resource to improve the skills and knowledge of their workforce without impacting limited learning and development budgets.
Because the learning is delivered online through our award-winning Learning Management System (LMS) called EQUAL, it means that employees can learn flexibly at a time and pace that fits into their current workload and commitments.
Discover more about the benefits of e-Learning
AEB-funded courses that could enhance a business include:
If you would like to find out more about upskilling your staff, just get in touch to get started.
Enquire about AEB-funded training courses for employees today
Free Adult Learning in Scotland
That's right, we also proudly deliver FREE accredited online training courses with certificates in Scotland.
We work in partnership with West College Scotland and North East Scotland College to deliver our funded online training courses.
Together, we support businesses and individuals by utilising Scottish funding that's been set up to help support the delivery of education, skills development and training initiatives for adults aged 16 and over, exclusively in Scotland.
This £2 billion pound funding scheme is what underpins our free online courses in Scotland, and it's the reason that businesses and individuals can learn with us at no cost.
We currently offer over 40 free online courses at Level 2 & Level 3 (equivalent to Levels 5 & 6 in the Scottish Qualifications Authority) in a range of topics including Health and Social Care, Sustainability and Digital to name a few.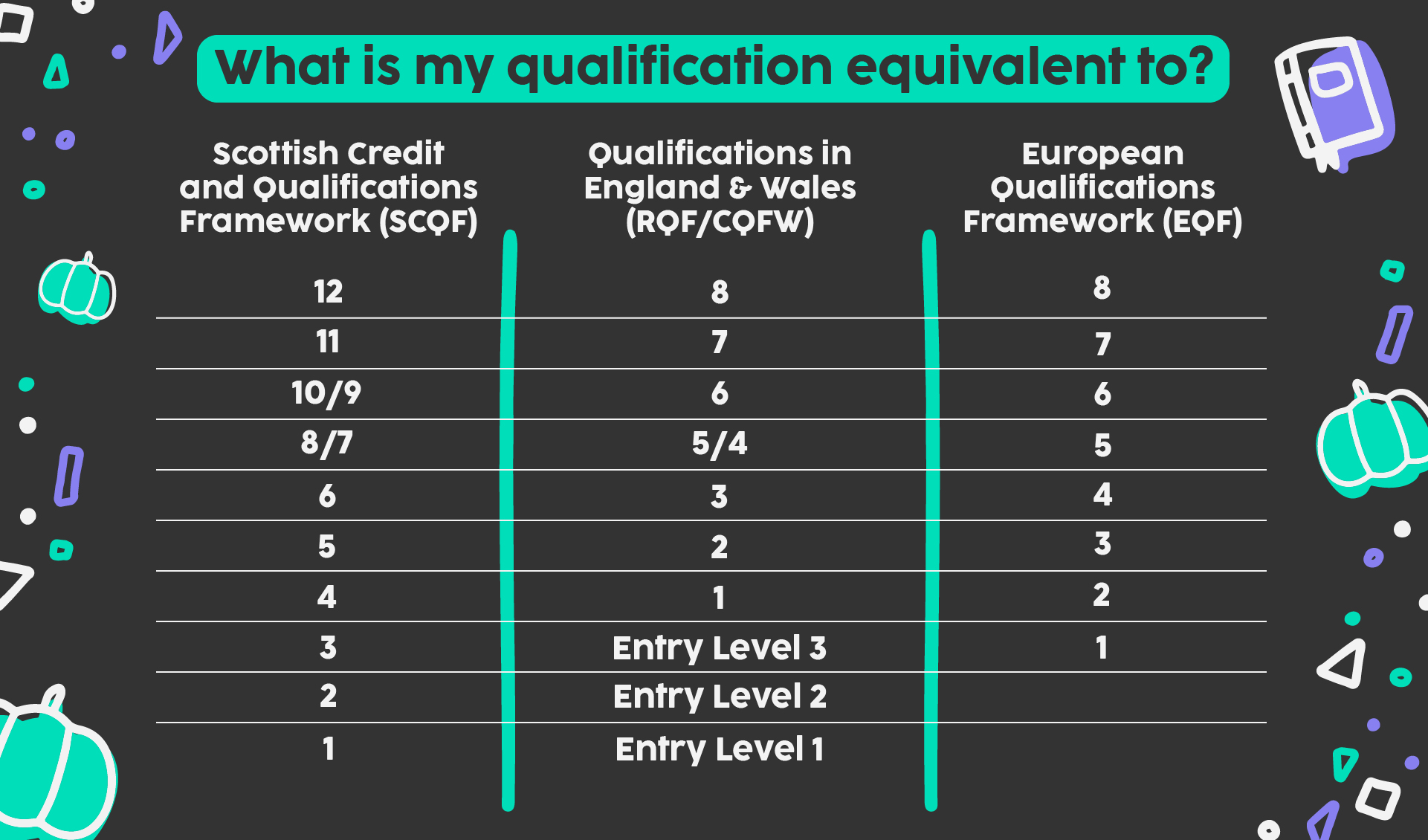 Take a look at our fully funded course selection in Scotland
Scottish Funding Eligibility Criteria
To be eligible for Scottish funding you must…
Must be aged 16+ as of 31 August 2023
Must have lived in the UK, EU or EEA for 3+ years
Must not be in full-time education
Must not be currently enrolled on any equivalent courses
Must not have completed the same course previously
Funded Skills Bootcamps in England
Skills Bootcamps are free, flexible courses of up to 12-16 weeks, giving people the opportunity to build up sector-specific skills and fast-track to an interview or progress in their current role as part of the Government's Lifetime Skills Guarantee and Plan for Jobs, helping everyone gain skills for life.
Skills Bootcamps provide a flexible and vigorous educational experience tailored to build sector-specific skills at an accelerated rate.
Skills Bootcamps are for:
Adults aged 19 or over as of the 31st August 2023
Learners who are employed and looking to move into a new sector and start an entry-level role
Learners who are employed and have their employer's co-funding support to progress within the company
Learners who are self-employed and looking to grow their business
Learners who are recently unemployed or returning to work after a break and are looking to get started with an entry-level job in a new sector
Learners who are looking to build upon a Skills Bootcamp by completing an apprenticeship in their chosen topic
Applicants who have lived in England for at least the last 3 consecutive years, and have the right to work in the United Kingdom (there are exceptions for Ukraine or Afghanistan nationals)
Learners who are not currently undertaking any formal education, including another Skills Bootcamp
Learners who have a reliable internet connection, a laptop or computer with a camera and microphone and access to Microsoft Office
Learners who are able to commit and attend 100% of live sessions as per the course requirements they are choosing to enrol on
Please note, although our Skills Bootcamps are completed entirely online, due to the way Skills Bootcamps are funded, you can only complete a course that is available in the area that you currently reside in.
The Skills Network are the leading national provider of government-funded Skills Bootcamps and currently offers:
Enroll on a Skills Bootcamp today
*All courses listed are available for enrolment at the time of publishing.
Please enquire today on 01757 606648 to learn more.
Check out Sonja's experience of completing a Level 3 Digital Marketing Skills Bootcamp…..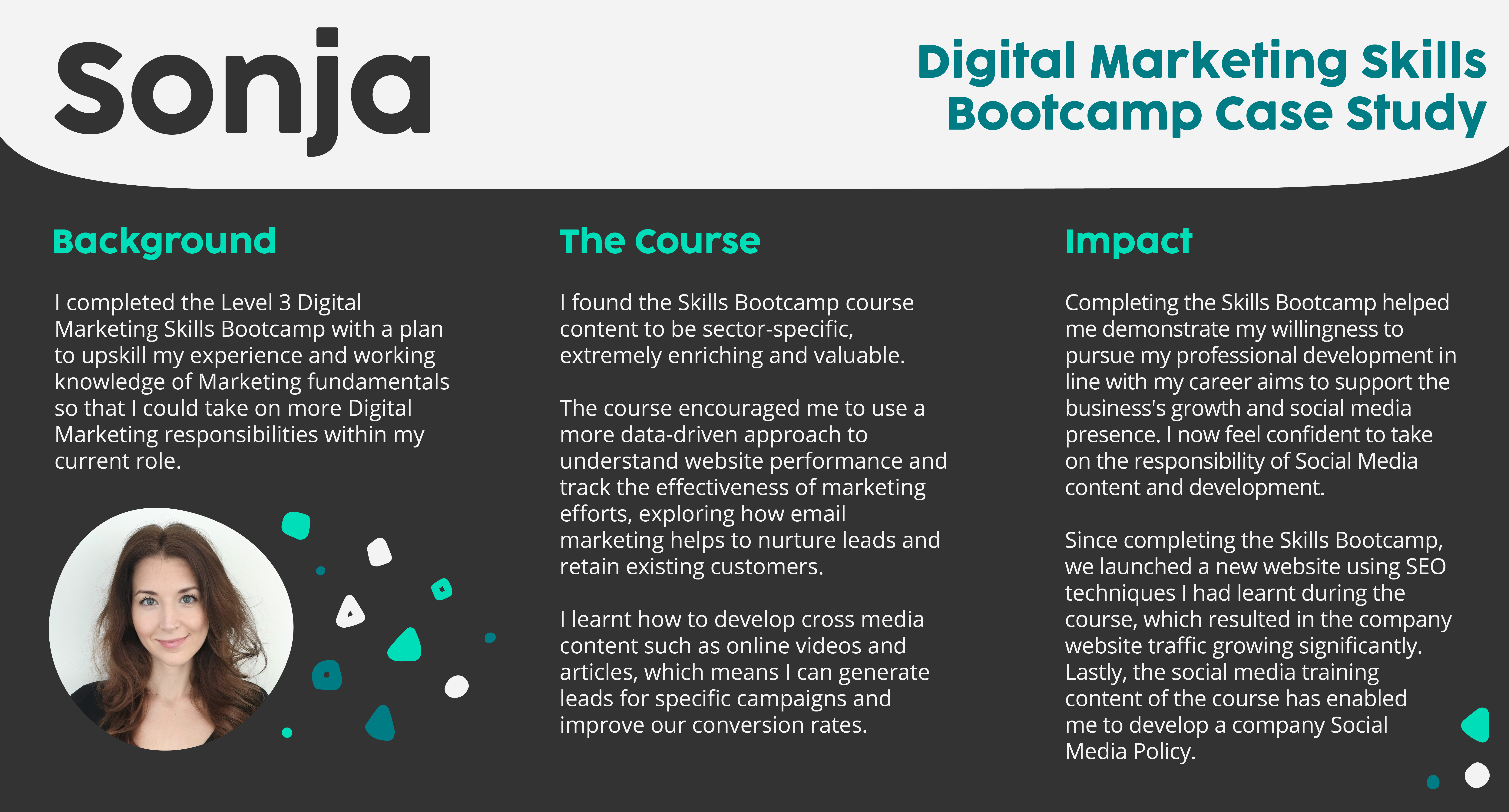 Learn more about Skills Bootcamps
Skills Bootcamps for Online Staff Training
Skills Bootcamps are not just for individuals, they're for businesses and employers too.

Skills Bootcamps help employers:
Recruit. Interview and recruit Skills Bootcamps completers in their local area- with no cost or fees attached
Retrain. Fill skills gaps by upskilling current employees or recruiting one of our high-quality Skills Bootcamp candidates
Retain. Keep talent within your organisation by investing in their skillsets- with up to 90% government funding
Each of our Skills Bootcamp courses is worth an average of £2500 per learner, but through our access to government funding, we can deliver this high-quality online training to your business for as little as £250.
With their employer's support, each week, employees can immerse themselves in live online face-to-face lessons with a cohort and industry-qualified tutor. These lessons aren't just part of the curriculum; they're an essential and engaging experience.
Register your interest in Skills Bootcamps today
Read more about how Skills Bootcamps can support your business
No tricks here folks - just FREE online courses!
The Skills Network is proud as pumpkins to make learning accessible to all.
It's time to dust off the cobwebs on your skill sets!