A Brief History Of Women In Education
Details: Written by Kate Hutchinson |
Published:

This blog will explore the education available for women throughout history in the UK, and how education opportunities were fought for and won over the years. Women have forged their own legacy and place in education history, despite gender bias and institutional inequalities that still work against them today.
Despite these great advancements for women in education, the number of UK male teachers is at an all-time low, making up only 35% of secondary school teachers. Have women in fact over-saturated the education sector?
Let's take a closer look at where things started.
In Medieval times, getting into a nunnery was the only way to access education

Teaching in the Medieval period was exclusively carried out by male priests and monks who generally only taught the children of rich people. Monastic schools often dedicated their time to teaching Latin and reciting the works of St Augustine, how to chant, do basic arithmetic and even how to use a sundial to read the time!
Young girls were considered inferior to boys in almost every way from birth.
A young girl's biological inferiority and expectation to have children once older, often meant that education was never an option available to them- unless of course, they chose to leave their 'normal' life and enter a convent. That's why the most notable female intellects of the Medieval European period always tended to be nuns. In fact, the first recorded woman to get a university degree was a nun called Juliana Morell from Spain in 1608.
Perhaps the strangest thing about women in education during the medieval period, was that they were founding colleges all over the UK- but were not allowed to attend them! Henry VII's mother Lady Margaret Beaufort founded two colleges at Cambridge, and Jeanne of Navarre founded a college in Paris, which was male-only. For any woman who wanted to get herself a degree, this must have been quite frustrating! (1)
Women finally got to attend university in the 18th and 19th Century

We guess you're thinking that's it? Women in the 18th and 19th centuries had equal access to education as men? Wrong!
The exact same inequalities that we saw in the Medieval period, were still happening in the 18th and 19th centuries. In 1873, for instance, Emily Davies and Barbara Bodichon founded Girton College at Cambridge, an all-female college — but it wouldn't be officially affiliated with the prestigious university until 1948, suggesting that there was still rife judgement and shame surrounding women seeking education.
Women who wanted to attend university or college in the 19th century were often nicknamed "blue stockings"- inspired by an intellectual group of women in London from the 1700s. The Blue Stockings Society banded together to help further their studies and achieve higher education as women.
Once defined as a modernist and radical group of women, the aims of The Blue Stocking Society were in reality, quite conservative. They regarded themselves as virtuous proponents for the art of refined and intellectual conversation, usually over tea drinking!
The Blue Stocking Society, despite its intellectual reputation, was held to the same male scrutiny suffered by all ambitious, non-conformant women of the time.
Romantic literary figure William Hazlitt once said: 'The bluestocking is the most odious character in society... she sinks where she is placed, like the yolk of an egg, to the bottom, and carries the filth with her'. (2)
Other Romantic male figures such as Lord Byron and Samuel Coleridge also ridiculed the Bluestockings.
Women of colour continue to experience inequalities in education in the 20th and 21st centuries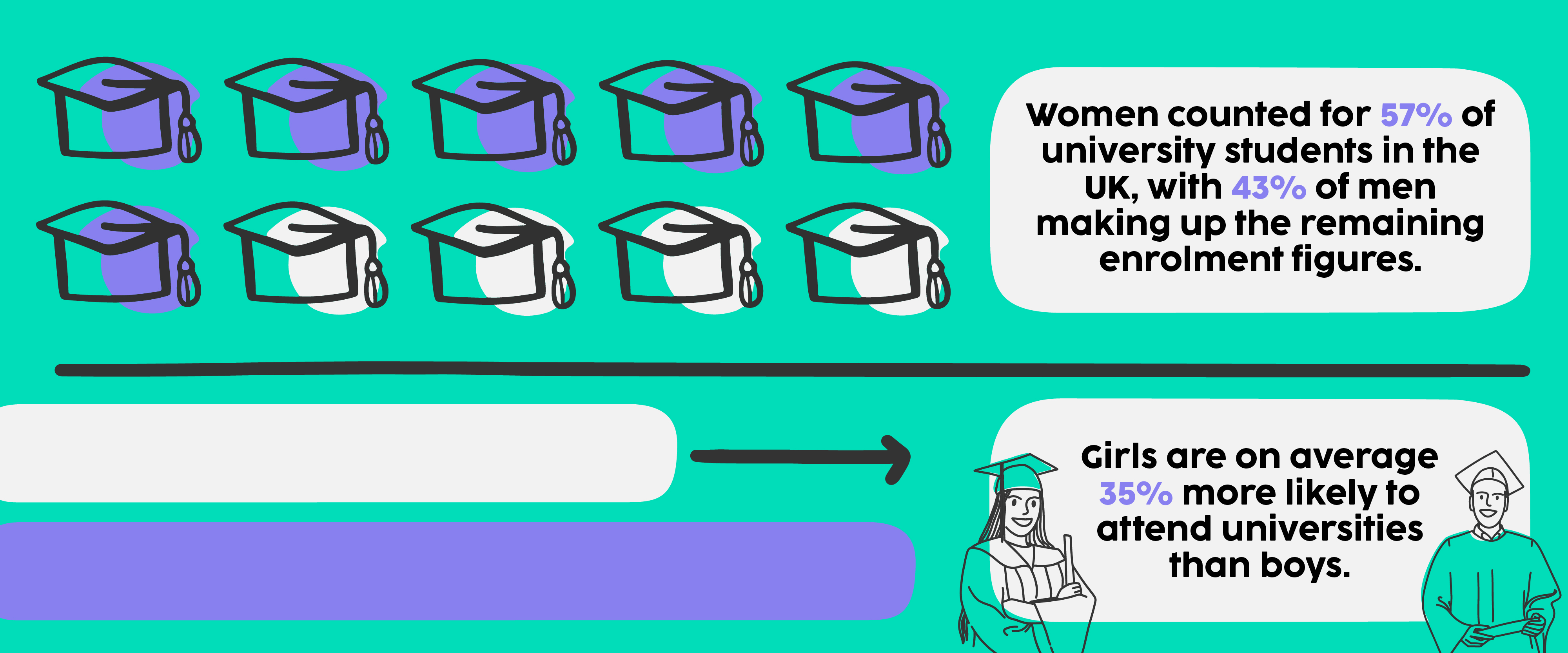 By the 20th century, the dust had begun to settle regarding the women and education debate. College and university courses for women began to shed their gendered and vocational content and replace it with a truly academic curriculum, particularly after World War II. By the 1960s, higher education institutions saw a spike in female attendance, bolstered by a second wave of feminism sweeping across the UK.
As female education became widely accepted, it set the scene for a phenomenon we are still experiencing in 2023, as women continue to outnumber men at university. In 2020, the research concluded that women accounted for 57% of university students in the UK, with 43% of men making up the remaining enrolment figures. Girls are on average 35% more likely to attend universities than boys. (3)
Despite these huge advancements for women in education, women of colour have their own unique educational experiences, characterised by long standing institutional bias and systemic inequalities.
Seun Matiluko, British author, journalist poet and researcher in law, race and politics states:
"As a Black female who was born and grew up in Britain, I never learnt anything about my own history from school. I learnt that race was an American problem, yet that contradicted the daily experiences I would have in my majority-white schools, where derogatory remarks about Black people could be heard in the corridors. The narrative was that British history was a history of white people. Black people like my dad, who was born a British subject, were erased from the story." (4)
Evidence of racial inequalities and discrimination towards black female students in our education systems still exists today.
Jasmine During, National Programme Coordinator at UK Youth, a youth organisation in London states:

During talks of her own experience at school, Jasmine recalls how her passion for STEM subjects was fought for:
"As a secondary school student, I recall my parents debating with my science teacher to allow me to take the higher tier paper when she argued against it. Doing a lower tier paper would have automatically placed me in a lower set for GCSE Science, so thank goodness for my parents being diligent in education matters because that year I took the higher tier paper and smashed through all expectations!" (5)
It is clear to us, that whilst women have historically fought for equal access to education in the UK, the battle is far more complex and by no means over.
There is still much to be done to ensure that all women, of all backgrounds accessing education, feel that they are seen, heard and represented.
Have women oversaturated the education sector?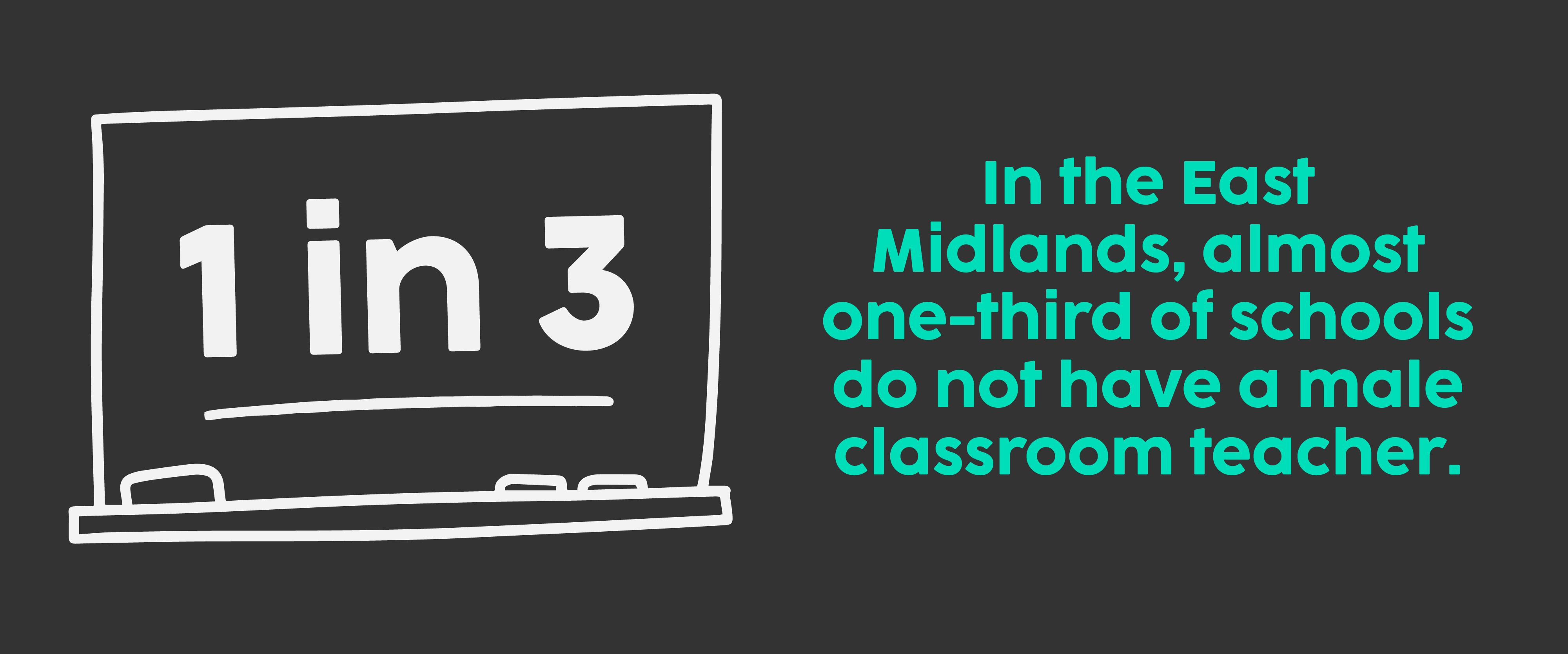 It's a compelling question, right?
Recent figures suggest that women have in fact, now overtaken men in the ownership of education as an industry and we have fewer and fewer male teachers in our schools. In the East Midlands, almost one-third of schools do not have a male classroom teacher.
Here at The Skills Network, we recently conducted a quickfire poll on social media regarding the gendered assumptions we hold about certain job roles. When the word 'Teacher' was mentioned, a staggering 95% of the votes selected 'female' with only 5% voting male.
The number of male teachers in the UK is at a record low and has an alarming lack of male teachers from ethnic minority backgrounds, with almost nine in 10 English state-funded schools (87.8%) not having a minority ethnic teacher in their senior leadership team. (6)
Joshua Fullard, a leading researcher in the UK school study stated:
"Male ethnic representation is also an issue. If the workforce is predominantly white and female, people may think, 'There aren't people with my background in this profession'." (7)
We've come a long way from the young women who could only gain an education by attending a nunnery; from those who were told that they could found a university but could not attend themselves or be awarded a degree; and from those countless numbers who were denied education altogether.

The gender imbalances and lack of ethnic male representation in schools are a modern-day challenge for the education sector to navigate. With inclusive teacher recruitment campaigns, tax-free bursaries and scholarships available, it is hoped that they will remove social barriers and encourage applicants from diverse backgrounds.
The question is, are we to wait another hundred years (or more) to achieve equal representation in education?
Only time will tell.
To find out more about the history of education check out this blog here
To learn more about inequality, check out our free funded courses here
(1) Bustle.com
(2) Artuk.org
(3) Hepi.ac.uk
(4) Cosmopolitan.com
(5) UKYouth.org
(6) The Guardian
(7) The Guardian