6 TSN Study Tips!
Details: Written by Eleanor Lodge |
Published: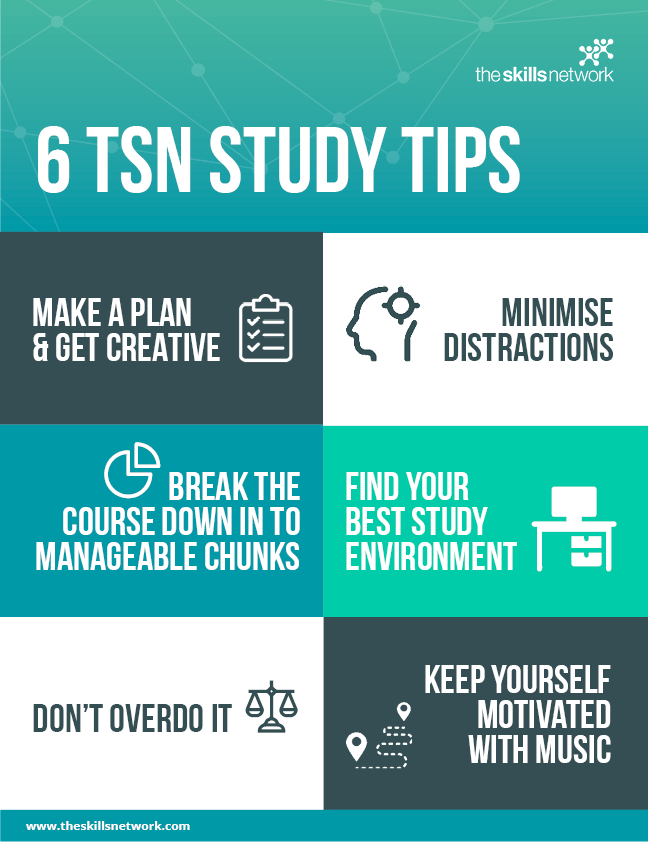 Here at TSN we know a lot about learning so today we're offering six TSN tips on how to stay on track while studying!
Make a plan and get creative:
With exams and deadlines looming, having a plan is a great idea. A plan allows you to stay on top of your deadlines while ensuring you're leaving enough time to balance all the study with all the fun stuff too! When writing your plan, use colours and stickers and find somewhere nice to display it. If you're working on a digital plan, tools like google-calendar offer a "customise your calendar" feature, so get creative, make your plan and have fun with it!
Break the course down into manageable chunks:
Starting a course can sometimes feel overwhelming. A top TSN tip is to break the study task down! At TSN, we break our content down into modules, this way our learners can focus on each section at a time. By breaking down your study task, you can avoid the panic and feel accomplished as you work through each section of content.
Find your best study environment:
Distanced learning gives you the flexibility to allow you to choose where you learn! Whether it's on the train into work, in your car waiting at the school pick up, or in your favourite coffee shop, find a place that works for you.
Minimise distractions:
We know it's hard but when the time to study comes, switch off the distractions! Being focused when studying will help you to better understand all the new information you are learning and you'll be rewarded by having a super study session!
Keep yourself motivated with music:
Here at TSN we know that music is great for lifting your mood. From reducing pre-exam anxiety, switching on the brain and increasing memory, music is the golden ticket to a super study session.
We have our very own motivational music playlist, made by our learners for our learners. Check it out
here
and give your study session that motivational boost!
Don't overdo it:
Life is busy and your free time is important. After a day of work and study make sure you use your free time to chill out. Take a bubble bath, watch TV and eat some of your favourite chocolates! Being productive doesn't always mean hours at your desk. Switch off every now and then, ultimately this will set you up for a productive study session next time you get to work!