The Skills Network Shortlisted for 'Large Business of The Year' Award At The York Press Business Awards
Details:
Written by Jessica Thompson
|
Published:
22/10/2018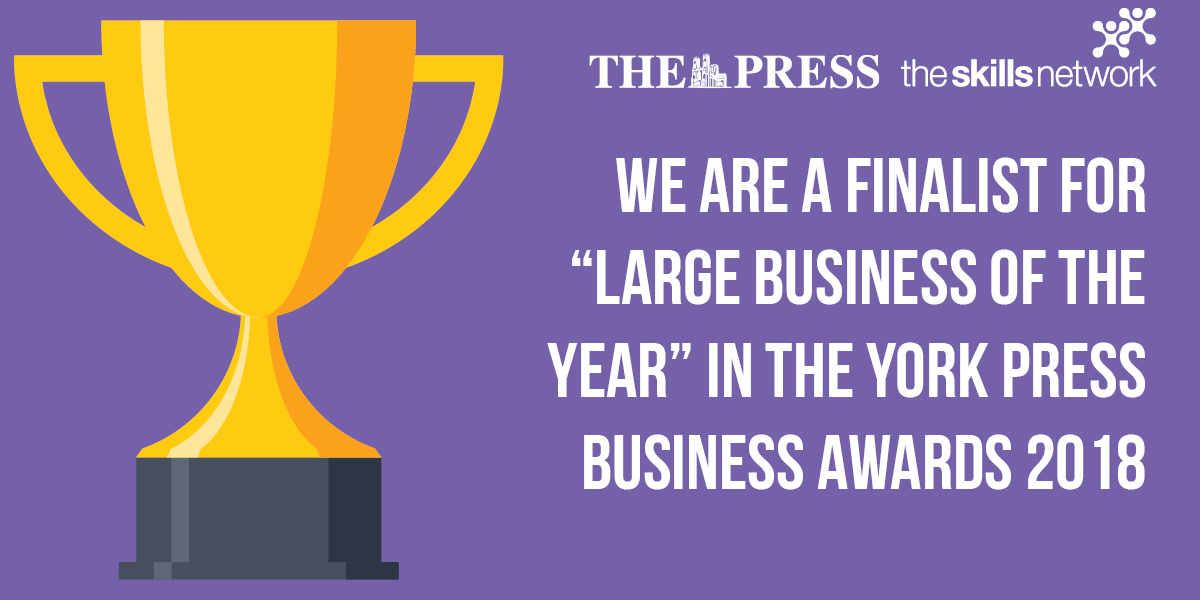 The Skills Network are delighted to announce that we have been shortlisted as a finalist for the 'Large Business of The Year' award at the 2018 York Press Business Awards.
In The York Press's 28th anniversary of the event, we have been shortlisted as one of three finalists in the category, which celebrates outstanding organisational achievement across York, North Yorkshire and East Yorkshire.
We will be attending the Press Business Awards ceremony at York Racecourse on Thursday 15th November 2018 and are overjoyed to have been recognised for the exceptional dedication and ambition we exhibit in everything we do!
From our humble beginnings in 2009, The Skills Network has now asserted itself as one of the UK's leading distance learning providers, operating on both a national and international scale.
We embarked on a journey to provide people with access to further education opportunities, regardless of their current circumstances, and to offer unrivalled quality and great reliability unmatched by existing market provisions.
Having realised our ambitions, we continue to chase our vision and grow year-on-year, proudly holding annual student numbers of over 25,000 learners every year.
We have been shortlisted for the award based on our remarkable achievements, which include:
Course portfolio of 110 accredited distance learning courses available to employers, educators and home learners
Own award-winning 'EQUAL' Learner Management System (LMS), which has now seen a landmark 500,000 users enrolled onto the platform
Partnerships with over 4,000 organisations to implement training and development solutions
Partnerships with over 50 FE Colleges for subcontracted distance learning provision
Continued demonstration of market prowess and business growth across all our sectors and operations.
Our unique approach to the learning journey of our students which involves:
Flexible and engaging distance learning methods
Support from subject-specific Tutors and own Learner Support Advisor (LSA)
24/7 live chats, learner newsletters and Learner Voice surveys, and free live webinars.
Our Corporate Social Responsibility (CSR) initiatives that include:
A continued commitment to our community, including the significant recruitment within our local area.
Charitable work.
Our national 'Citywide Mental Health Project', which has reached out to companies, charities and voluntary organisations across the country and has seen over 1,500 individuals enrol onto a government funded mental health awareness qualification.
To find out more about the 2018 York Press Business Awards, please click here.
.